Best 5 Electric Scooters in India 2023
Electric scooters are one of the fastest-growing segments in the motorcycle industry, making a big splash in today's urban landscape. This popularity has led to an increase in brands producing electric scooters, and what we have today is more choices than ever before. While there are Best EV scooters in India 2023, there's no denying that some of them are not as good as others. There is also a lot of confusion regarding what makes a good or bad scooter, which we will cover here. But, first, let's discuss what makes a truly great e-scooter and why you should consider buying one over others on the market today.
It's important to understand the sales figure to choose the Best Electric Scooters Available in India 2023. If we look at the sales data for EV scooter sales, it is found that EV scooter sales have increased by 51% from April 2022. There is a huge increase in EV registration in various states, such as Uttar Pradesh, Maharashtra, Karnataka, Tamil Nadu, and Gujrat.
Let us study the sale of top-selling electric scooters between 2021 to 2022 to understand more about the Best Electric Scooters 2023.
| | | | |
| --- | --- | --- | --- |
| Scooter model | December 2021 Sale | December 2022 Sale (Units) | Latest month sale(April) |
| Ather 450X | 1,761 | 7,085 | 7737 units sold |
| Hero Electric Photon | 49,231 | 100,123  | 3329 units sold |
| TVS iQube | 1,212 | 11,071 | 8720 units sold |
| Bajaj Chetak | 728 | 3,249 | 3977 unit sold |
| Ola s1 | 16,000 | 17,279 | 21845 units sold |
Also, check out this video to understand electric scooter sales and stay tuned with the latest market information related to electric scooters. Other than this, you must also read about the top electric scooter companies that have made maximum sales from March to April.
Below is the list of the top 5 best-selling electric scooters that are worth checking out.
5) Hero Electric Photon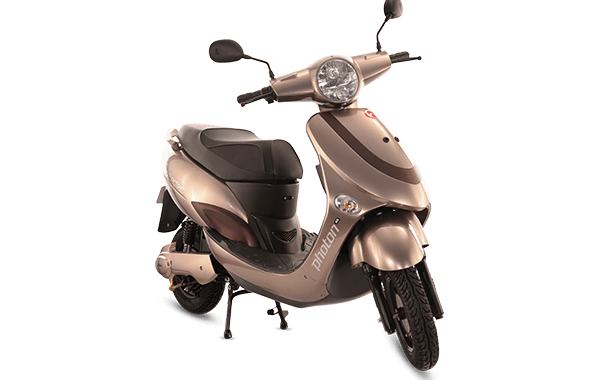 The Hero Electric Photon is the Epic Series that offers you a safe and reliable ride with easy handling and smooth acceleration. This electric bike is equipped with a battery capacity of 72V / 26Ah and has a range of 108km, and possesses a speed up to 45 km/h. It has a portable battery inside Optima HX that gets charged in 5 hours at your convenience. The scooter comes with extra safety features such as a remote lock and anti-theft alarm to ensure safety wherever you go. The Ex-showroom Price of Hero electric photon was ₹ 86,391, while for current prices and other information, you must check the official website to check about availability and other relevant offers. 
4) Bajaj Chetak
With a seamless robust steel body, bajaj chetak gives an unbeatable range with great performance for a delightful ride. The Bajaj Chetak has a range of 85-95km, a top speed of 70kmph, and a full charge in 4 hours. It's equipped with a 3 kWh Lithium Ion Battery that is made from which can travel up to 95+ km with only one recharging session! Designed with a flush-fitted exterior and IP67 water protection, it is sure to offer guaranteed protection. You can also configure the scooter with the chetak app for temper alerts, geo-fencing, OTA updates, and more. The ex-showroom price of bajaj chetak was ₹ 1 11 161/-, though you must check official website for the latest price and other specifications. 
3) Ather 450x (generation 3)
The Ather 450x is one of the most durable, reliable, and versatile electric scooters. With durable resistance to weather conditions and geographies, the 3.7 kWh battery pack offers superior, consistent, and reliable performance year after year – under any condition! Powered by lithium-ion cells and one of the smartest battery management systems in the industry, it also has 5 Years of Ather Battery Protect and IP67 Rated | Water & dust-resistant for stronger protection. The best thing about this scooter is you can also perform various operations using ather app. It offers a range of 146 km with a top speed of 90km/h. Moreover, its ex-showroom price varies between 1.17Lakh to 1.39Lakh. If you want to know about ather E scooter, check the official website for the latest models and specifications.
2) TVS iQube Electric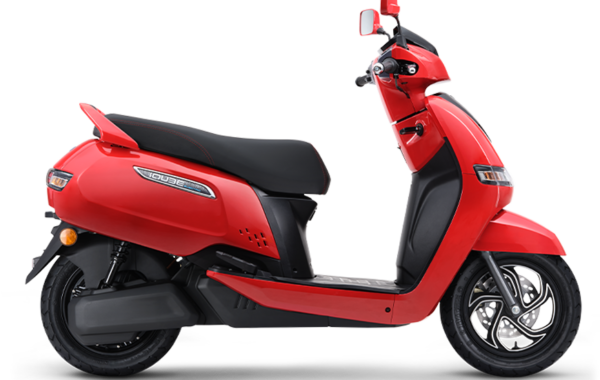 The TVS iQube is a stylish, smart, cost-effective electric scooter offering a top speed of 78kmph. With high performance, faster pick-up, and quick acceleration, it offers a range up to 100 km to beat the traffic seamlessly. It is equipped with a 3.04 kWh Lithium Ion battery with hassle-free fast charging. With a portable 15 A plug point, it is sure to charge a scooter in less than 5 hours. Moreover, it has a smart LED headlight with DRL, a 17.78 cm multifunctional screen board, 32 litres of storage capacity and many other great features. If this interests you, please check official website for more specifications and other details.
1) Ola S1 
Experience the seamless ride with the new generation electric scooter- Ola S1. It is packed with powerful features such as 36L boot space, effective navigation, a powerful motor, and much more that will never disappoint you. It offers an average speed up to 95kmph Speed with a range of 141 km/h. Moreover, the scooter is also tested for longer distances and also offers protection from dust, water, and fraud. There are mainly three models available that are S1 Pro, S1, and S1 Air. With an efficient combined braking system, Bluetooth and wifi connectivity, it will surely offer every rider superior riding performance. The ex-showroom price of the scooter is 99,999/; the price may vary from time to time. For more accurate information, visit the official website to read more about specifications and the latest market price. 
So, you might think now, which one is better? To explore more about various electric scooters and their specifications, we have researched and made a comparison table below, have a look at it.
E Scooter names

HeroElectric Photon

Bajaj Chetak

Ather 450x 

TVS iQube Electric

Ola S1

Range 

108km

85 to 90 km

146 km

100km

141 km

Speed

45 km/h

70kmph

90km/h

78kmph

95kmph

Price

₹ 86,391

₹

1 11 161/-

₹

1.17Lakh to 1.39Lakh

₹

1,20,890

99,999

Battery 

72V / 26Ah

3 kWh Lithium Ion Battery 

3.7 kWh battery

3.04 kWh Lithium Ion battery

2.98kWh

lithium-ion

battery
If you are serious about purchasing of electric scooters, you must also check out below youtube videos to get a more clear idea. 
 https://www.youtube.com/watch?v=8A-etRMnqBc

https://www.youtube.com/watch?v=Gi1JRhywstE

https://www.youtube.com/watch?v=zKOsKAw8Ep8

https://www.youtube.com/watch?v=Ib7z7ibbZ-4
 Final Thoughts,
We hope that we have provided you a fair and balanced view of the best electric scooters that are available in India. Before purchasing one for yourself, it is vital to know their prices, features, and the best electric scooter available in India. There is no shortage of scooters available in India with different specifications depending on the manufacturer and model. You need to assess your requirements and see which one can be most suitable for you while choosing one of these popular electric scooters.
If you have any thoughts or recommendations to share about Best Electric Scooters 2023, feel free to drop it below in the comment section. We would be glad to hear back from you.