BattRE Electric Scooter Price in India, Specifications, Review, Top Speed, Features 
BattRE is introduced high-quality electric scooters named Batt: Mobile at an affordable price supported by world-class service support. The BattRE Electric Scooter is launched in Andhra Pradesh, Maharashtra and Telangana states.
BattRE Electric Scooter designed for city life and its hustle and Bustle. It is designed to look good and work flawlessly, it makes life less complicated and worrying and ensures that you fully utilize its capacity.
BattRE Electric Scooter load compartment is one of the largest in the class, with a regular shape that helps you make the most of the space.
Its higher ground clearance provides this scooter a powerful position. BattRE Electric Scooter large alloy wheels cope effortlessly with any road and give a strong presence and enhanced traction.
BattRE Electric Scooter fitted with Disc brakes both front and rear along with an anti-theft alarm and ignition that fires up without having to the place the key.
BattRE Electric Scooter digital display helps you keep focused on the road ahead by putting as much information as possible directly in front of you.
BattRE Electric Scooter stylish and bold LED Head-lamp combined with equally appealing LED Tail- lamps and turn indicators provide this Electric Scooter with a unique urban look.
BattRE Electric Scooter ample of legroom would want you riding the electric horsepower more and more.
BattRE Electric Scooters Price in India 2023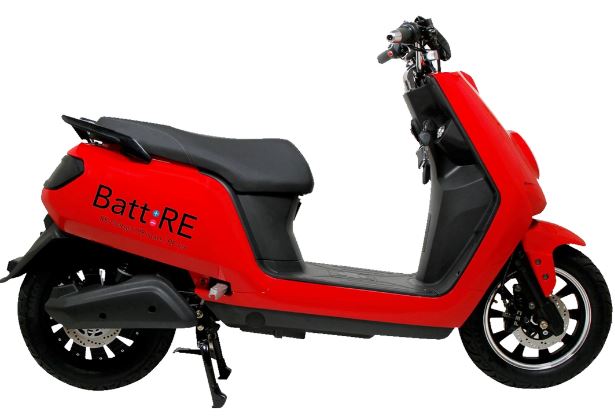 Price: Rs.63,555*
BattRE Electric Scooters Specification
| | |
| --- | --- |
| OVERVIEW | |
| Scooter dimensions | 1800 x 700 x 1100 |
| Kerb weight | 65 kgs |
| Controller | 12 Tube Mosfet controller |
| Mileage | 90 Km |
| BATTERY AND CHARGER | |
| Battery chemistry | Lithium iron phosphate |
| Battery life | 2000 cycles |
| Battery specifications | 49v 30 Ah |
| Charger output | 54.6 V 10 amp |
| Charging time | 2.5 hours |
| ENGINE AND TRANSMISSION | |
| Motor | BLDC |
| TYRES AND BRAKES | |
| Tyre Type | Tubeless |
| Tyre size | 90/100/10 |
| Wheel Type | Alloy wheels |
| Wheel Size | 10* |
| Front brakes | Disc brakes |
| Rear brakes | Disc brakes |
| SAFETY AND FEATURES | |
| Odometer | LCD TYPE |
| Rearview mirror | Available |
| Seat type | Single |
| Passenger Backrest | Available |
| Passenger Footrest | Available |
| Underseat storage | Available |
| CHASSIS AND SUSPENSION | |
| Front Suspension | Hydraulic Shock Absorber |
| Rear Suspension | Hydraulic Shock Absorber |
| Ground Clearance | 150 mm |
| ELECTRICALS | |
| Head lamp | LED |
| Tail lamp | LED |
| turn single lamp | LED |
| Wires | 3MM Square (Cross-sectional) |
| Anti theft alarm | Available |
| USB Charger | Available |
| Keyless Ignition | Available |
 

BattRE Electric Scooters Review Video