Mahindra EVerito Price in India 2023, Specifications, Mileage, Review, Range, Images, Overview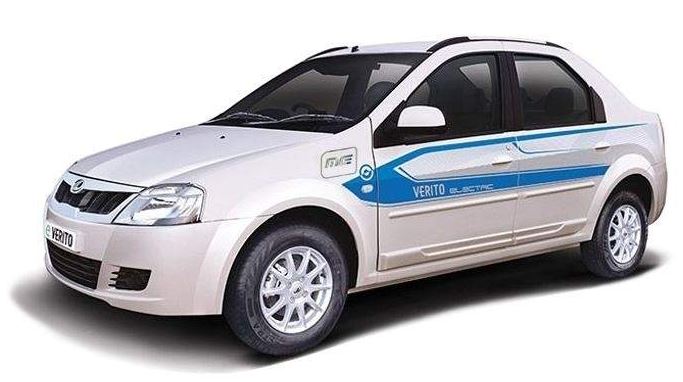 Mahindra launched the e-Verito electric sedan in 3 Models priced at Rs. 9.5 lakh (Mahindra EVerito D2), 9.75 lakh (Mahindra EVerito D4) and Rs. 10 lakh (Mahindra EVerito D6) ex-showroom  Price in Delhi. The Mahindra EVerito Electric car is a proper five-seater sedan with 510-liter boot space.
Its Best in class Key features such as Running cost of 1.15PER KM, Fast Charge in 1 HOUR 45 MINUTES, RANGE OF 140 KM in 1 charge, o EMISSIONS Green vehicle AND Clutch Free Driving. It's more features you can check out below.
Mahindra EVerito Electric Car Features
➤ Low Cost Of Maintainance:
Zero-combustion model means less moving parts. It means less chances of parts breaking and lower cost of maintenance.
➤ Low Running Cost:
At just 1.15/km, Mahindra eVerito Electric Car beats almost all other Electric cars on running costs.* The Mahindra eVerito Electric Car cost is calculated with these figures: 18 units of electricity used at 7Rs a unit, at a range of 110 km.
➤ Government Incentives:
The Government too thinks that an all-electric, zero-emission car is tomorrow's journey towards better flow solutions. 
➤ Zero Tailpipe Emission:
This Mahindra Verito Electric Car issues zero-emission. It is because the Mahindra Verito is an all-electric car that doesn't need a tailpipe!
➤ REVive Feature: 
The copyright to Mahindra Electric, this technology helps neutralize range stress by giving you a few additional kilometers in case you run out of charge.
You can access Mahindra EVerito Electric Car REVive by contacting us from the car's instrument cluster.
➤ Easy To Charge:
Charging the Mahindra EVerito Electric Car is as easy as charging your mobile phone. Youn can Just plug the on-board charger into any normal 15Amp socket and you are able to go. Charge easily, anytime, at your workplace, home parking lot.
➤ Regenerative Braking:
This Mahindra EVerito Electric Car technology provides you to charge your car every time you press the brakes. so you think How is this possible?
Every time you hit the brakes or the times when you don't use the accelerator, the kinetic energy of the Mahindra EVerito Electric Car is transformed into electric energy and charges the Mahindra electric car.
➤ Boost Mode: 
You get immediate torque to zoom with maximum energy right from the minute you start with the Mahindra EVerito Electric Car boost mode.
➤ Mahindra Everito interior:
This Mahindra all-electric sedan car doesn't only look good from the outside, but also good from the inside. Feel ultimate comfort with Mahindra EVerito Electric Car Spacious interiors.
➤ Direct Drive Transmission:
Mahindra EVerito Electric Car comes with Direct Drive transmission system, the Mahindra EVerito Electric Car runs without a standard gearbox,
which means no clutch! It translates to zero mechanical reduction resulting in maximum performance and maximum savings.
Mahindra EVerito Electric Car Price in India 2023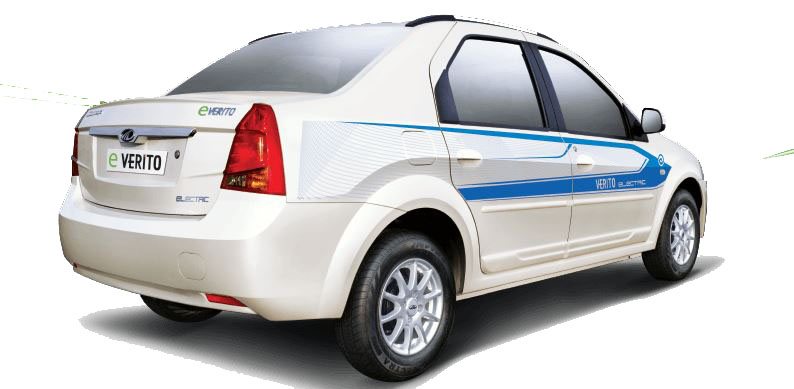 ➤ Mahindra EVerito D2 NFC Electric Car Price: Rs. 1011000.
➤ Mahindra EVerito D4 NFC Electric Car Price: Rs. 1037000
➤ Mahindra EVerito D6 FC Electric Car Price: Rs. 1047001
Mahindra EVerito Specifications
Mahindra EVerito Specs

D2              D4          D6

Performance

Motor

72V 3-phase AC Induction Motor

Emission

Zero Tailpipe Emission, Green Vehicle

Max. Gross Power

30.5 kW (41 hp) @ 3500 rpm

Max. Gross Torque

91 Nm @ 3000 rpm

Max Speed @Gross Vehicle Weight

86 km/hr

Transmission

Transmission

Direct Drive Single Speed Transmission

Tyres

Tyres

185/70 R14 tubeless (Low Rolling Resistance Tires)

Suspension

Front Suspension

Macpherson type with wishbone link

Rear Suspension

H-section torsion beam with programmed deflection coil spring

Brakes

Front Brakes

Disk

Rear Brakes

Drum

Battery 

Battery Capacity

200 Ah

Normal Charging Time

8 hours 45 mins*, 0-100%

Fast Charging Time

1 hours 45 mins*, 0-80%

Full Charge Range

110 km**

Dimensions

Turning Circle Radius

5.25 m

Gross Vehicle Weight

1700 kg

Wheelbase (mm)

2630

Overall Length (mm)

4247

Overall Width (mm)

1740

Overall Height (mm)

1540

Seating Capacity

5 Seater

Boot Space

510 Litres
Mahindra EVerito Electric Car Review Video
That was all about the Mahindra EVerito Electric Car Price, Specs, Features, Review & Images. I hope that all kinds of information useful to you for buy this Mahindra Electric Car but If you have any question regarding this post, then please feel free to leave a comment below in the comment box, I will try to solve your problem as soon as possible. Thanks for visiting.